23 3月
by Move Move Mover
It is not for the faint of heart to move a piano. Anyone who has completed this difficult task can attest to the fact that it necessitates a significant amount of personnel and planning. It's so laborious and exhausting that it's earned its own place in the moving industry. Nowadays, there are moving and storage firms specialized entirely to piano transportation all across the country.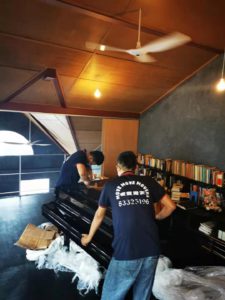 Given that pianos can weigh anywhere from 300 to 1,000 pounds or more, we strongly suggest enlisting the help of a professional moving company with piano moving experience. A piano is frequently the most valuable and expensive piece of furniture in a person's home. A good piano can cost anywhere from tens of thousands of dollars to over SGD 10,000. Given the worth of a piano, it must be handled with extreme caution, necessitating the use of experienced movers.
If employing professional movers is out of your budget or schedule, most pianos may be moved with the help of friends. If you possess a grand piano that weighs 1,000 pounds or more, however, we strongly advise hiring a professional. These massive pianos frequently necessitate specialized equipment and handling that only true movers can supply. We also recommend hiring professionals if there are high stairs or small passageways involved.
Still have your heart set on moving the piano yourself? Please see the list of helpful hints below.
Locate the necessary moving supplies and materials.
To begin, double-check that you have all of the necessary gear and materials to move the piano safely and securely. Both an upright piano and a grand piano will require a large number of moving blankets for safety. After all, the last thing you want to happen to your priceless instrument is a scratch (or worse!). You can also cover the piano with heavy towels or blankets. To keep the blankets in place, you'll need several rolls of tape. Moving an upright piano will additionally necessitate the use of a dolly that can support the piano's weight.
Grand pianos are more difficult to travel due to their size and structure, and they require more supplies. We recommend obtaining the appropriate size piano board (also known as a piano skid board) to handle your transfer in addition to moving blankets. You'll also need straps and a screwdriver to keep your piano in place on a skid board.
Recruit as many people as possible to assist you. We recommend organizing a strong team of helpers after you have your supplies in order. Depending on the size of the piano and the difficulty of the relocation, you'll need at least four people – possibly more. Doorways, stairs, and hallways should all be measured.
You should measure any area in your home where the piano will pass through before moving it to ensure that it will fit. Begin by taking measurements of the piano and the piano skid board. Then take careful measurements of all doorways, stairwells, and corridors to see how easy it will be to move the piano and piano board throughout your house.

Both moving an upright piano and a grand piano necessitate a great deal of planning. Have your supplies ready before you go either. The piano skid board, moving blankets, moving tape, screwdriver, and moving straps are all included.
Do you like to use a professional moving company?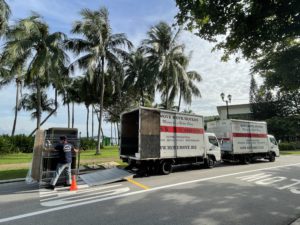 If you want to keep your piano but not relocate it, there are a number of professional piano moving firms that can help. Check Move Move Movers to choose the best moving company to transfer your possessions, including your piano.  Wishing you luck and a smooth transition!