2 1月
by Move Move Mover
movemove.biz
Moving all your belongings to a new location is never easy. Moving your whole life over a long distance? Well, that way harder folks. Since the distance you need to travel is longer, you should take more precautions to ensure everything goes smoothly. Otherwise, you run the risk of losing your belongings as you relocate to a whole new life. If your belongings mean so much to you, you should be prepared a create a fool-proof plan for your relocation. Here are a couple of long distance moving tips that won't let you down.
Insurance is your safety net
No one can accurately predict what can happen when you move. Even with that thought, most people still think nothing bad will happen to them or to their stuff. That's the reason why only a minority of people insure their belongings in the event something goes wrong. These people think insurance fees are an added expense they can do without. Well, they're dead wrong because getting insurance for your things is the best way to protect them. Determine their value, list them down, and get your things insured so you'll have more peace of mind.
Bring the important items along with you
Folks, we know you have a lot of belongings but only a portion of those things fall under the life-and-death category. Some of these important items include credit cards, family heirlooms, birth certificates, passports, and bank documents, among others. Packing these items together and allowing them to be transported in a separate vehicle from you is a great risk. You never know but you these important items may be mishandled and you may lose them forever. Do yourself a big favour and pack these things together in one place and never ever let them get away from your sight. In fact, we've written before that making The List of important items, among others, is one of the first things you should do before moving out.
Seal Your Mattress
Transporting your mattress exposes it to the danger of bed bugs. Let's say your mattress can be easily accessed by these pests as it travels a long distance. The moment you use your bed, these insects will pounce on your skin right away. If you want to avoid that, apply a little insecticide on your mattress and seal it with plastic tightly. These steps will help prevent any bed bug from stealing your precious sleep.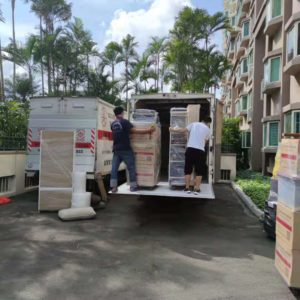 Never Include Food or Liquid
Sometimes, we have a lot of food stored in our house the moment we need to leave it for a new one. You might be faced with the dilemma of packing your food supplies, or give it away. We suggest you go for the former because transporting food or any form of liquid will do you no good. The stored food might spoil and these liquid containers might break down and spill all over your other belongings. If you're planning to bring food and water, make sure you have them near you at all times.
Moving over long distances need not be hard. All you need to do is plan everything carefully and you'll do just fine. Don't forget to ask reliable movers in Singapore first before going ahead with your long distance relocation plans.