8 3月
by Move Move Mover
We understand that moving day isn't on many people's list of favorite things to do. Sure, the part where you feel completely at ease in your new surroundings is fantastic. But what about all of the preparations required to get there? It frequently appears to be a never-ending process.
Let us reveal a little secret to you. Ready?
When you plan ahead of time, everything becomes much easier. Furthermore, having all of the necessary supplies makes moving a lot less stressful. Sure, you're probably aware that you can get free boxes at places like bookstores, liquor stores, or your neighborhood grocer. Or that you can wrap some of your delicate items in rags. But, if you're going to pack well and move with peace of mind, you need to make sure you have everything you need.
Pack as you intend to move to ensure a smooth transition. No, we don't mean keeping a serious expression while stuffing things into boxes. Packing like a pro entails arriving prepared with all of the necessary supplies. We've compiled a list of essential moving supplies to get you started.
Not everyone enjoys shopping for items on a long list. We get it, and that's fine with us. What are the absolute necessities for good packing? Begin with a variety of boxes in various sizes, some bubble wrap, and a good packing tape. If you're a minimalist, that's the end of your shopping list. Check out the rest of the list if you really want to take it to the next level.
When it comes to moving, your most valuable asset is boxes. If you decide to look for free boxes, make sure they're in good shape and sturdy. After all, they'll be in charge of keeping all of your valuable possessions safe and secure.
Here are a few pointers, whether you're repurposing boxes or purchasing new ones:
Smaller boxes are preferable for heavier items.
Large boxes are ideal for bulky or lightweight items such as bedding and pillows.
Wardrobe boxes allow you to transport your clothes without taking them off the hangers or crumpling them up.
Dish boxes protect your dishes from chipping or breaking.
Glassware specialty boxes will ensure that all of your glasses arrive safely at home.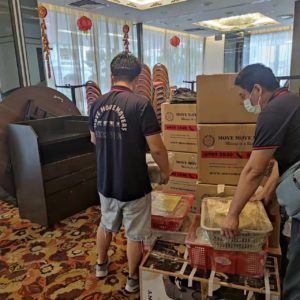 Safeguarding Your Fragile Items
Bubble wrap is a good place to start, but there are other options for protecting your fragile items. Consider purchasing foam sheets to cushion your dishes. Compostable packing peanuts can also help support some items. Newspaper is less effective, but it can be useful for wrapping items prior to packing. But be careful what you use it for. Porous materials, such as your mother's bone china, may absorb the ink and become stained as a result.
Labeling is essential not only for packing but also for unpacking. When your boxes are properly labeled, you will know how to handle them and, more importantly, how to stack them. Make it a point to label your boxes so you don't end up with your book collection on top of your champagne flutes.
Boxes with clear labels are more likely to end up where they belong. As boxes shift during the moving process, label them on all sides and on the top. If your labels are clear, your movers will be able to leave the correct boxes in the correct rooms, saving you time before unpacking.
Label. Label. Label.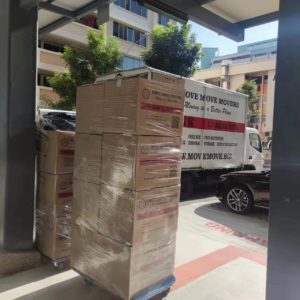 Don't be cheap with the packing tape. For a few dollars more, you can get a high-quality tape that will do the job. Choosing the cheapest tape means your boxes will most likely arrive unsealed, or the tape will split (as it is frequently quite thin). If you really want to look professional, invest in some high-quality tape and a tape gun, and begin sealing.
When it comes time to unpack, don't forget the utility knife!
That completes your packing list, but there are a few other useful items you may not have considered:
Mattress bags to keep dust and dirt off your mattresses while they're in transit.
Upholstered furniture sofa and chair covers
A set of tools used to disassemble and reassemble furniture or electronics.
Scuff-resistant furniture pads
Cling wrap can be used to keep drawers closed or to protect the surface of wooden furniture.
Being thorough in gathering your moving supplies ensures that you – and your belongings – are well prepared for the big day.
Does all of that seem a little much? It's true that packing supplies require their own to-do list. If you want to get rid of it entirely, you're in luck: there's a way to do so.
Full-service moving companies will handle all of your packings and moving supplies. They will bring you all of the supplies you require and then pack everything for you. They'll pack everything in the best way possible to ensure safe transport, based on their experience and expertise.
Not only that, but they will also help you unpack in your new home. They'll then take all of the waste with them, leaving you to focus on your organization's tasks. Skip the packing and moving hassles and let the pros handle it all.