7 3月
by Move Move Mover
Unfortunately, not all contractors will handle post-renovation cleaning after spending months on a construction site creating piles of renovation debris and a large amount of dust in your home.
If you're dealing with a massive post-renovation mess and don't know where to begin, you've come to the right place. Follow these simple steps to make your newly renovated space look exactly how you imagined it.
How to do Disposal After Renovation
The first and most important step in post-renovation cleanup is to remove and dispose of all construction and remodeling debris. Large piles of scrap wood, countertops, concrete, broken tools, hardware, and other assorted waste are examples of this.
For this first step, many people rent dumpsters. Dumpster rental can be difficult, costly, and time-consuming, which you will be left to deal with on your own. Your city or county may require you to obtain a permit in order to have a dumpster placed on your property, and it may not always be in a convenient location to easily complete your project. But there is a simpler way.
The most efficient way to complete the first step of a post-renovation clean-up is to hire a professional and reasonably priced service to handle the removal, haul away, and disposal for you. MoveMove specializes in full-service property cleanouts, including quick and affordable post-renovation cleanouts.
After removing all of the renovation waste and debris from your construction project, the next step is to clean up any dust that was left behind. Because believe us when we say, there will be plenty. And it's probably in places you wouldn't expect it.
Cleaning Up After Renovations
When working on a kitchen, bathroom, or other type of renovation project, it's critical to keep construction dust to a minimum. Construction dust accumulates over time and should be cleaned up on a daily basis. However, if you are unable to handle it on a daily basis, you can still handle renovation clean up if you have the necessary tools and knowledge.
We'll go over how to handle post-construction cleanups, from renovation waste removal to construction dust cleanup.
How to Remove Dust After a Renovation
Construction dust is extremely fine and gets everywhere. Whether it's dust from tile, wood, drywall, concrete, or brick, any home renovation will release a slew of superfine particles into the air, which will settle all over your house, even in the darkest corners.
Because construction dust is harmful to your respiratory system, it is critical that you understand how to properly clean dust after remodeling. Knowing how to clean construction dust off walls is a great first step, but professional cleaning after renovation isn't always necessary. There are numerous ways to do it yourself!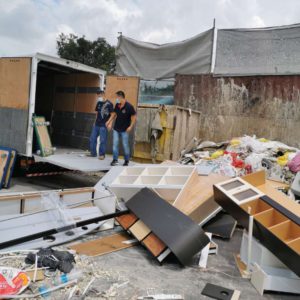 Checklist for Cleaning After a Renovation
✅Clean the walls: If you don't know how to clean construction dust off walls properly, you could end up damaging them. To begin, wipe down your walls with a soft, damp towel. Wrap the cloth around the bottom of your broom and tape it shut. Finally, use the towel to trap and remove dust from the walls.
✅Dust the ceiling and fans: Use the soft bristle brush attachment and hose from your vacuum to remove dust from the ceiling and ceiling fans. If you don't have a vacuum, use the towel-covered broom from the previous step with a fresh towel.
✅Wipe down the trim, baseboards, window frames, and doors with a soft towel and some dusting spray to remove any dust.
✅Sweep, mop, and vacuum: A dustmop or Swiffer works well on hardwoods and tile, but a standard broom and dustpan will suffice. After you have swept and mopped, vacuum any carpeting that has been exposed to renovation dust.
✅Wipe down the windows with a soft towel and some glass cleaner!
✅Clean light fixtures and bulbs: This dust gets everywhere. It only takes a quick wipe down to take care of it.