2 3月
by Move Move Mover
You can either call or fill out an online form to request a moving service. We'll need some details from you, such as the type of property (whether it's a house or an apartment), the number of rooms, the floor on which it's located, and so on. Before we book your consultation, we'll use this information to offer you with a free, no-obligation price.
If you own a larger home with more than three bedrooms, we will arrange a free preliminary inspection before providing you with a price estimate. You may also use our video survey services to save time and move the house removal process along more quickly.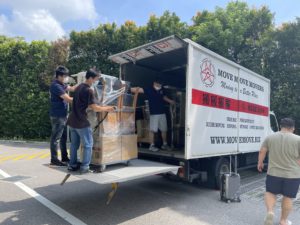 It's critical for professional house movers to have a parking spot available near your home. You are responsible for securing the parking spot. The cost of parking in a Pay & Display lot for the pros will be charged to your total bill. If you've properly packed and labeled all of your items, the loading process will begin immediately.
Any major pieces of furniture will be dismantled and wrapped in blankets by the house movers for no charge before being loaded into the vehicle. It's important to note that crates should not weigh more than 20kg. If you want packing assistance (including the delivery of packing supplies), please let us know during the booking process.
Your goods will be delivered to your new address along the most efficient path available by the Move Move. When driving, they employ GPS systems to maximize efficiency.
However, we cannot be held liable for things that are damaged as a result of your improper packaging. As a result, we recommend that you take advantage of our experience by combining your house removals service with one of our supplementary packing services. Your belongings are fully insured throughout transit when you use Move Move Removals' packaging service. Please keep in mind that our moving company is unable to move your pets or other dangerous materials.
We'll need you or another trusted person to provide the removalists the necessary directions at the delivery address. It is also necessary to have a valid parking space near your new home. When the house movers arrive at your new address, they will carefully unload all of your belongings and place them in their proper rooms.
We may also assist you with unpacking your goods if necessary. Furthermore, the professional movers are equipped and knowledgeable in reassembling any dismantled furniture prior to loading.
By Move Move Movers
BEST MOVER GUIDE: WHAT YOU MUST KNOW IF YOU ARE MOVING TO AND FROM CONDO!
Residential Moving Service
Move Move Mover provides you with more attentive and considerate services during the service process.